AtlasGuru, a leading user-generated content (UGC) travel platform, has unveiled its latest innovation – Itinerary AI by AtlasGuru. This latest feature blends the prowess of AI with the personal insights of the travel community, redefining travel planning as we know it.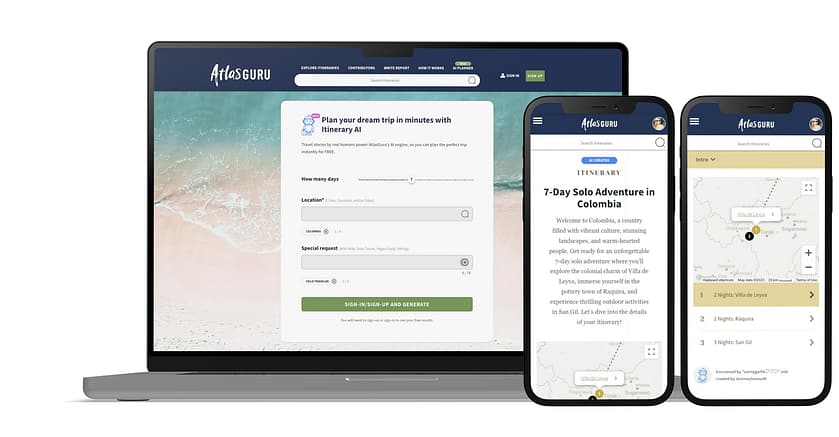 By harnessing human-created itineraries from AtlasGuru, this platform empowers AI to craft superior trip plans, surpassing what AI alone can achieve. Travelers are also given the unique option to access the source itineraries that fueled the AI-generated plans.
Itinerary AI's Fusion of Technology and Human Connection
In a landscape often dominated by technology, AtlasGuru's Itinerary AI bridges the gap between innovation and human connection. Kim Bennett, the Founder and CEO of AtlasGuru, emphasizes, "Itinerary AI lies at the nexus of technology and human passion. Our platform transcends mere destinations; it's about genuine narratives and enduring memories, shared with fellow travelers. In a world where technology frequently replaces personal touch, Itinerary AI bridges this divide."
Key Features of AtlasGuru's Itinerary AI
Human-Centric Approach: Itinerary AI's ingenuity stems from its capacity to harmonize artificial intelligence, utilizing OpenAI's ChatGPT API, with the personal touch of travel tales from AtlasGuru's expansive database of 500+ contributors. The source itineraries driving the AI are openly showcased within the AI-generated trip plans. This synergy captures the emotional nuances of travel, delivering recommendations that resonate with users on a deeply personal level.

Contextually Enriched Interface: Beyond the ordinary, Itinerary AI's interface intuitively comprehends user preferences and contextual cues, ensuring that recommendations are not only relevant but also comprehensible, tailored to the distinct journeys of each traveler.

Complimentary Personalized Itineraries: AtlasGuru stands as a cost-free travel platform featuring a thriving community of 500+ ardent travelers who generously share their itineraries and travel wisdom. With the seamless integration of Itinerary AI, AtlasGuru's human expertise converges with artificial intelligence to empower travelers in crafting bespoke adventures, thereby enriching the vibrant tapestry of global exploration.
By harnessing the extensive repository of user-generated content (UGC) within AtlasGuru's comprehensive database, this pioneering tool promises to redefine the landscape of travel planning. Travelers can anticipate personalized recommendations and inspiring itineraries, birthed from generative AI and the collective wisdom of the passionate AtlasGuru community.
About AtlasGuru: Transforming Travel Since 2019
Established in 2019, AtlasGuru has risen as a premier travel content platform, uniting a community of fervent travelers who eagerly share their itineraries and expert travel insights. Currently boasting over 800 itineraries spanning 125 countries, curated by more than 500 contributors, AtlasGuru remains committed to enhancing the travel experience for all.
TL;DR:
AtlasGuru introduces Itinerary AI, a pioneering platform merging AI with human-created itineraries to reshape travel planning. It combines AI and travel community insights, producing superior trip plans and allowing users to access source itineraries. It bridges the gap between technology and human connection. Key features include a human-centric approach, contextually enriched interface, and complimentary personalized itineraries. The tool will be accessible on AtlasGuru's homepage. Set to launch in August 2023, Itinerary AI harnesses user-generated content for personalized travel recommendations. Established in 2019, AtlasGuru is a premier travel content platform with a vast collection of itineraries and travel tips.
Hi, I'm Oren, founder at BIGINTRO, a content strategy agency that helps B2B companies drive growth. We develop search, social, PR, and content marketing strategies tailored to business goals. I also have a dog named Milo.