Atmosfy, a pioneering video platform renowned for its immersive reviews of live dining and nightlife encounters, has successfully raised $12 million in seed funding.
Spearheaded by Redpoint Ventures, the funding round attracted notable participants including Kygo, Streamlined Ventures, Industry Ventures, Canaan Partners, Village Global, Progression Fund, Convivialite Ventures, Gaingels, and Team Ignite.
This significant infusion of capital arrives at a time when Atmosfy is rapidly expanding its global footprint, marking a momentous milestone of one million local businesses featured across more than 10,000 cities spanning over 150 countries.
Transitioning from Static to Dynamic Reviews
In an era where video has firmly cemented its status as the preferred content consumption mode, the realm of online reviews has lagged behind. Relying on stagnant photos, outdated textual descriptions, and static star-based ratings reminiscent of print media's bygone era, the industry was ripe for innovation. Atmosfy steps into this void, reinvigorating reviews with real-time authenticity through videos curated by hyper-local content creators.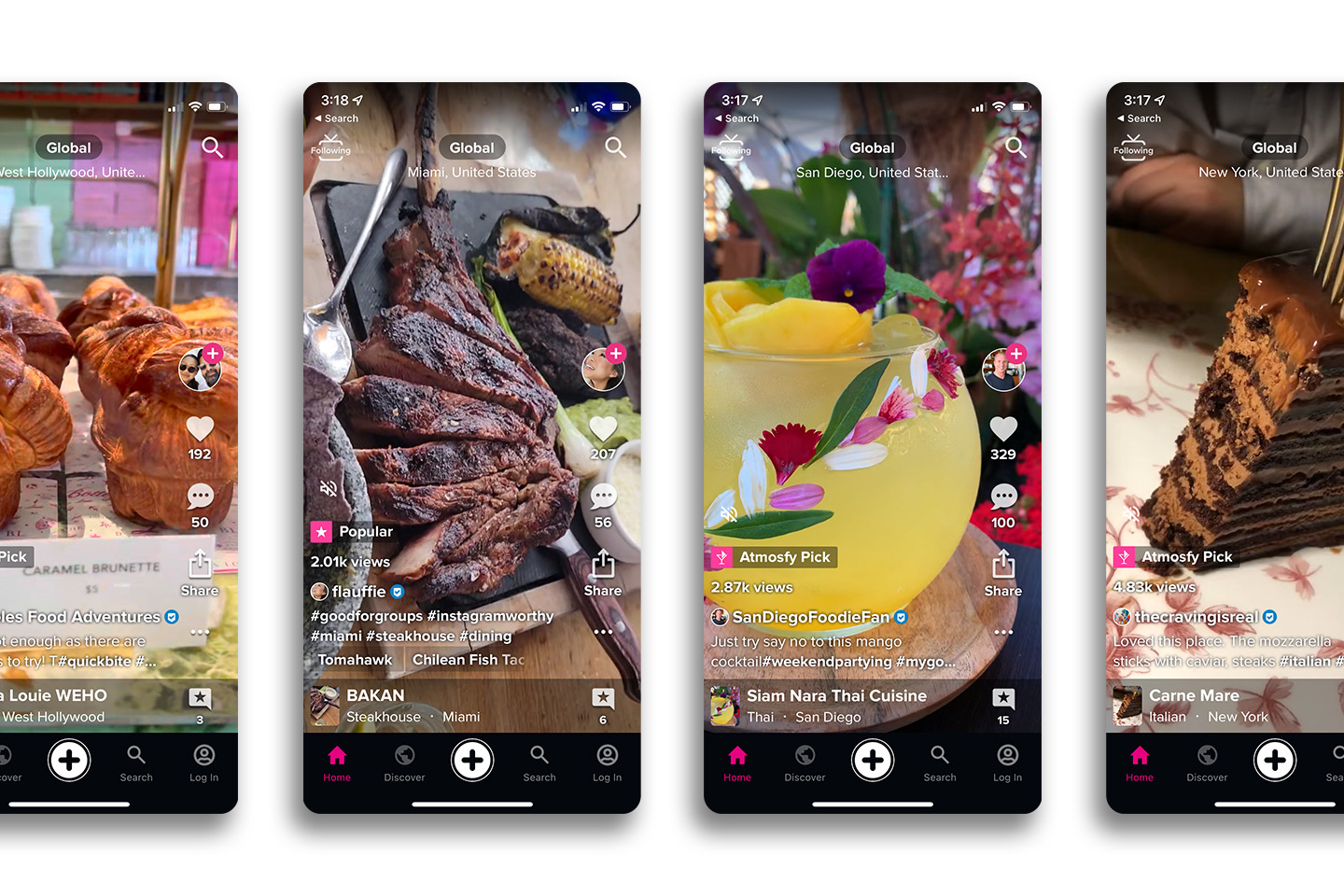 These creators share their genuine experiences at local restaurants, hotels, bars, nightclubs, and festivals, transcending the limitations of mere text. Embracing a mobile-centric, video-first approach, Atmosfy not only elevates local businesses' visibility but also provides a seamless avenue for users to unearth novel locales, plan excursions, and stay abreast of live events.
Founding Vision and Global Resonance
Michael Ebel, the visionary Founder and CEO of Atmosfy, draws upon his previous stint as a bartender to elucidate the challenges that local businesses face when striving to bolster their brands and amass positive online reviews. The pandemic's upheaval amplified these difficulties manifold, underscoring the dire need for innovative solutions.
Ebel's brainchild, Atmosfy, empowers consumers to spotlight their experiences through the captivating medium of video, thus inspiring others to partake in similar encounters and extend their support to persevering businesses. This ethos has reverberated worldwide, sparking a movement that has rekindled the joy of discovering one's city or uncharted urban landscapes, all in real-time.
A Nexus of Expertise and Innovation
Envisioned by trailblazers hailing from esteemed tech giants such as Instagram, TripAdvisor, TikTok, OpenTable, and Google, Atmosfy epitomizes a convergence of mobile technology, video content, and location-specific relevance. This potent amalgamation has birthed an entirely new avenue for local exploration, unifying the prowess of visual storytelling with the allure of proximity-based engagement. The freshly secured funding is poised to catapult Atmosfy's evolution, enabling the team to weave intricate personalization, forge robust partnerships, and fortify their commitment to local enterprises.
Redpoint Ventures' Perspective
Redpoint Ventures, a staunch proponent of user-generated content's enduring appeal, is firmly aligned with the ethos underpinning Atmosfy. Meera Clark, Principal at Redpoint, underscores consumers' preference for insights from cultural mavens who mirror their lifestyles and experiences. Gen Z's transformative inclinations are particularly pronounced, as they gravitate toward authentic, immersive, and engaging avenues for discovery and self-expression. In this context, Atmosfy emerges as a quintessential embodiment of these themes, exuding unparalleled engagement and boasting a rich reservoir of user-generated content.
Harnessing the Power of Video Reviews
Ebel highlights a striking statistic: consumers are 13 times more inclined to share video reviews than written ones. Notably, Atmosfy users exhibit a five-fold increase in posting frequency compared to other social platforms, attributable to their inclination to share real-time experiences. The distinct advantage lies in the prolonged relevance of Atmosfy's content, persisting and captivating users months after its initial publication. This enduring appeal resonates with individuals seeking guidance on home-based and global destinations alike, amplifying Atmosfy's impact.
Atmosfy's meteoric journey, fueled by a hefty $12 million in seed funding, underscores its commitment to reshaping online reviews through dynamic video narratives. Striding beyond the confines of static content, Atmosfy celebrates the nuances of local dining and nightlife experiences, aided by a global network of creators. This groundbreaking platform seamlessly combines mobile accessibility, visual storytelling, and geographic relevance, empowering users to embark on exciting journeys of discovery.
Redpoint Ventures' endorsement, the platform's resonating global mission, and the innate longevity of its video content solidify Atmosfy's position as a transformative force in the realm of authentic, real-time exploration and reviews.
TL;DR:
Atmosfy has secured $12 million in seed funding to revolutionize online reviews using immersive videos of live dining and nightlife experiences. With participation from notable investors, Atmosfy has quickly expanded its reach to feature one million local businesses in over 10,000 cities across 150 countries. Unlike static photo and text-based reviews, Atmosfy brings authenticity through real-time videos created by locals, making it easy for users to discover new places and stay updated on events.
The platform's mobile-focused approach combines video content, location relevance, and personalized experiences. Redpoint Ventures, a strong supporter of user-generated content, endorses Atmosfy for its alignment with modern trends, especially among Gen Z. The platform's statistics reveal users' enthusiasm for sharing video reviews, contributing to its lasting impact. Overall, Atmosfy's dynamic video reviews reshape online exploration and offer a novel way to experience and share local moments.
Hi, I'm Oren, founder at BIGINTRO, a content strategy agency that helps B2B companies drive growth. We develop search, social, PR, and content marketing strategies tailored to business goals. I also have a dog named Milo.