FlyMeOut, a rising star in the travel startup industry, has introduced its revamped iOS app, catering to those who seek exclusive and curated travel adventures. This invite-only social travel club brings together passionate travelers from diverse backgrounds, providing them with unique opportunities to explore new destinations while expanding their global networks.
Seamless Adventure Planning
The newly redesigned Explore page puts destinations at your fingertips, simplifying your journey planning. Whether you're discovering new places, hosting your trip, or connecting with fellow travelers, FlyMeOut's refreshed interfaces offer a seamless adventure planning experience.
Diverse and Exclusive Community
In a world where experiences take center stage, FlyMeOut stands out, reshaping how the global community interacts, travels, and forms bonds. With a member base spanning top-tier influencers, YouTube personalities, TikTokers, as well as professionals such as bankers, lawyers, and athletes, diversity and exclusivity are at the heart of this club.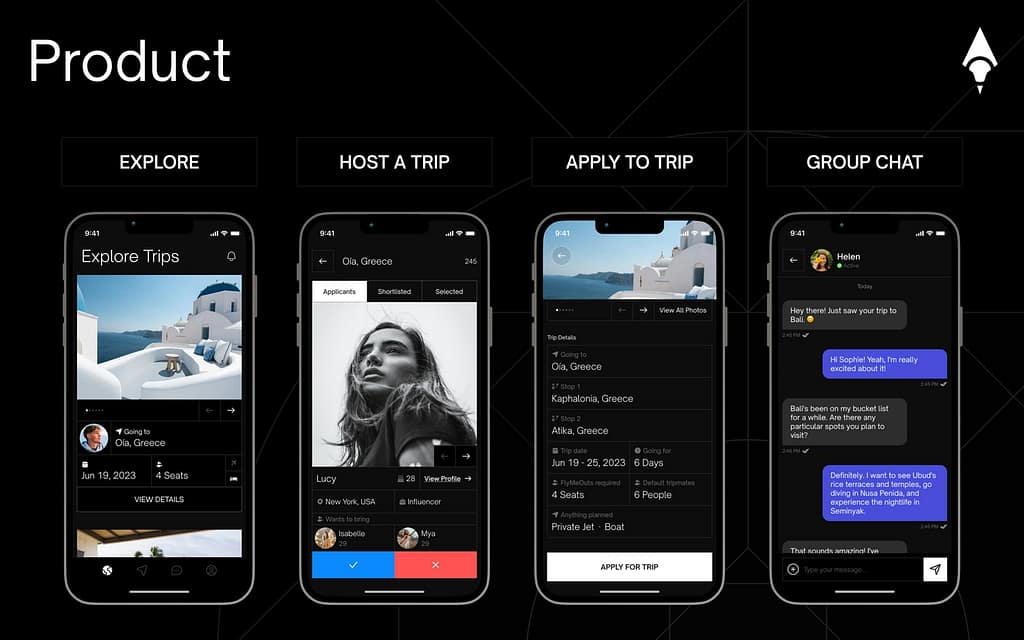 Impressive Growth and International Presence
Since its inception on June 14th, FlyMeOut has experienced remarkable growth. Sign-ups have soared, member interactions and trip bookings are on the rise, and the club has expanded its presence to numerous countries, reflecting its international appeal, according to Zach Latos, Co-Founder and CEO of FlyMeOut.
Creating Lifelong Connections
FlyMeOut's core philosophy revolves around fostering genuine connections and unforgettable experiences. The club aims to create a tight-knit community where every trip presents an opportunity to form lifelong friendships.
One of FlyMeOut's unique features is its dual approach to trips. Members can either host a journey, inviting friends and other tribe members, or simply join an existing trip, discovering new places and forging new connections.
Safety, Authenticity, and Exclusivity
Safety, authenticity, and exclusivity are the cornerstones of FlyMeOut's platform. Members have the chance to get to know their trip host before embarking on a journey, ensuring comfort and compatibility. The recent update has introduced superior chat and group chat functionalities, enabling seamless communication among members.
Building Trust through Shared Experiences
Trust is paramount in the digital age, and FlyMeOut understands its importance. Members can expand their friends' list on the platform by traveling together, fostering genuine bonds and creating a community where trust is not just a word; it's a lived experience.
The Future of FlyMeOut
FlyMeOut has ambitious plans for the future. Members can look forward to more features, partnerships with top-tier brands, and curated trips to uncharted destinations. The company actively seeks exclusive collaborations with brands and venues, aiming to offer members unparalleled experiences.
TL;DR – Key Takeaways
FlyMeOut introduces an enhanced iOS app for exclusive travel experiences and connections.
The app offers seamless adventure planning with its Explore page redesign.
FlyMeOut brings together a diverse and exclusive community of travelers.
The club has experienced significant growth and now has an international presence.
FlyMeOut focuses on creating genuine connections and memorable experiences.
Members can host or join trips, emphasizing safety, authenticity, and exclusivity.
Trust is built through shared travel experiences.
The company has big plans for the future, including more features and partnerships.
FlyMeOut is the go-to choice for those seeking curated travel adventures and authentic connections.
Hi, I'm Oren, founder at BIGINTRO, a content strategy agency that helps B2B companies drive growth. We develop search, social, PR, and content marketing strategies tailored to business goals. I also have a dog named Milo.