In a world driven by technological advancements and cutting-edge design, the hospitality industry is undergoing a transformation like never before. Enter the realm of futuristic stays, where imagination meets innovation and traditional hotel experiences are reimagined into something extraordinary. In this article, we embark on a journey to explore the 15 most innovative hotels from around the world, offering a sneak peek into the future of hospitality.
1. Fantasyland Hotel
Edmonton, Canada: A Whimsical Escape
In the heart of North America's second-largest shopping mall, West Edmonton Mall, lies a truly unique accommodation experience. The Fantasyland Hotel invites guests to indulge in a fantastical escape from reality, offering a range of whimsical-themed rooms that ignite the imagination.

One of the most captivating choices is the Space suite. Step inside and be transported to a celestial realm where the boundaries of gravity fade away. The centerpiece of the suite is a floating bed that gives the illusion of weightlessness, allowing guests to drift off into a dreamscape among the stars.
But that's not all; the Space suite also features space capsule bunk beds, cleverly designed to resemble futuristic pods that shuttle astronauts through the vastness of outer space. Whether you're traveling with family, friends, or seeking a unique retreat, these bunk beds provide a playful and cozy place to rest and contemplate the universe.
Every detail of the Space suite has been carefully thought out to create an otherworldly experience. From the specially designed lighting that mimics the soft glow of distant galaxies to the cosmic wall art that adds a touch of mesmerizing beauty, this room truly captures the essence of space exploration.
Besides the captivating atmosphere, guests of the Space suite enjoy all the amenities and comforts one would expect from a luxury hotel. Impeccable service, plush bedding, and modern facilities come together to ensure a truly memorable stay.
2. Morpheus Hotel
Macau, Macau: Where Tradition Meets Modernity
In the heart of Macau, a city renowned for its opulent casinos and vibrant entertainment, stands a truly remarkable architectural masterpiece that pushes the boundaries of design and engineering. The Morpheus Hotel, a collaboration between the celebrated late architect Zaha Hadid and Melco Resorts & Entertainment, is a testament to the innovative spirit of our time.
The Morpheus Hotel is more than just a place to rest your head; it is an immersive experience that captivates the senses from the moment you step foot inside. Its unique free-form exoskeleton structure, a feat of engineering prowess, stands tall against the Macau skyline. The fluid lines and intricate curves of the building create an awe-inspiring visual spectacle, eliciting a sense of wonder and intrigue.
As you enter the hotel, you are immediately greeted by a breathtaking atrium that spans the full height of the structure. Bathed in natural light that filters through the exoskeleton, the atrium is an oasis of serenity amidst the bustling city. The combination of organic shapes and cutting-edge materials creates a harmonious blend of nature and technology that is both visually striking and soothing to the soul.
One of the most remarkable features of the Morpheus Hotel is its hypermodern elevators. Designed in collaboration with Chinese craftsmen, the elevators incorporate traditional jade carving techniques into their sleek design. The result is a seamless fusion of cultural heritage and contemporary innovation, an embodiment of China's rich history and its aspirations for the future.
3. Viceroy Los Cabos
San José del Cabo, Mexico: An Oasis of Innovation
Miguel Angel Aragonés' masterpiece, the Viceroy Los Cabos, is a testament to architectural innovation. Its eight white concrete blocks surrounding pools create a mesmerizing network of pathways, offering an oasis of relaxation in a truly futuristic setting.
4. Aqua Dome
Längenfeld, Austria: Reviving Extraterrestrial Dreams
In the quaint town of Längenfeld, Austria, an extraordinary concept emerged from an unexpected source: flying saucers. Transformed into thermal water retreats, these saucers now offer a fusion of relaxation and innovation, perfectly encapsulating the essence of futuristic design.
5. Shangri-La Hotel
Shard / London, United Kingdom: A Sky-High Oasis
Designed by the visionary architect Renzo Piano, the Shangri-La Hotel within London's iconic Shard building offers a luxurious escape within a modern masterpiece. With opulent interiors and breathtaking views, it redefines urban luxury in a setting that seems plucked from a sci-fi film.
6. W Abu Dhabi
United Arab Emirates: Where Luxury Meets Innovation
The W Abu Dhabi is more than just a hotel; it's a statement of architectural prowess. Its diamond-shaped glass panels illuminate the night, while its futuristic suspended sky bridge connects the two halves of the hotel, creating an unparalleled visual experience.
7. Yotel
New York, USA: Urban Efficiency Redefined
In the heart of bustling urban landscapes, where every square foot is a precious commodity, Yotel stands tall as a pioneer in the world of hospitality. Breaking free from conventional norms, Yotel introduces a revolutionary concept that optimizes space without compromising on comfort or style.
As you step into a Yotel, you are immediately transported into a futuristic world where sleek lines and innovative design reign supreme. The rooms, meticulously crafted to maximize every inch of available space, are a testament to the ingenuity of modern architecture. From the moment you enter, you are welcomed by a sense of tranquility that allows you to unwind and rejuvenate amidst the whirlwind of city life.
But it's not just the physical space that sets Yotel apart. Interacting with robots becomes a delightful part of your stay, as these helpful automatons seamlessly blend into the environment, providing convenient and personalized service. Whether it's delivering fresh towels, assisting with luggage, or simply engaging in a friendly chat, the robots at Yotel bring an added touch of charm and innovation to your experience.
8. Juvet Landscape Hotel
Valldal, Norway: A Retreat into Tomorrow
The Juvet Landscape Hotel marries the harmony of nature with the intrigue of technology. As the filming location for the movie "Ex Machina," it's a fitting backdrop for interactions between AI and humanity, elevating the guest experience to a new level.
Japanese innovation takes center stage at the Nine Hours Capsule Hotel, where compact spaces redefine luxury. These high-tech capsules offer a glimpse into a future where efficiency and thoughtful design converge, proving that small spaces can offer big experiences.
10. Hotel Ještěd
Liberec, Czechia: Art and Architecture Converge
Hotel Ještěd, a TV transmitter, restaurant, and hotel in one, is an architectural marvel that offers a futuristic escape. With rooms designed like spaceships and windows to the cosmos, it transports guests to a realm where design and imagination intertwine.
11. Hotel Puerta América
Madrid, Spain: A Canvas of Creativity
Daring and innovative, Hotel Puerta América is a visual journey through architectural diversity. With each floor designed by a different architect, it's a testament to boundless creativity. This hotel not only challenges conventions but defies them, offering a glimpse into a future where individuality reigns supreme.
12. Henn na Hotel
Tokyo, Japan: The Robotic Revolution
Heralding the robotic revolution in hospitality, Henn na Hotel replaces conventional staff with robots. From check-in to luggage handling, automation takes center stage. As technology continues to shape our world, this hotel provides a window into a future where machines coexist with humans.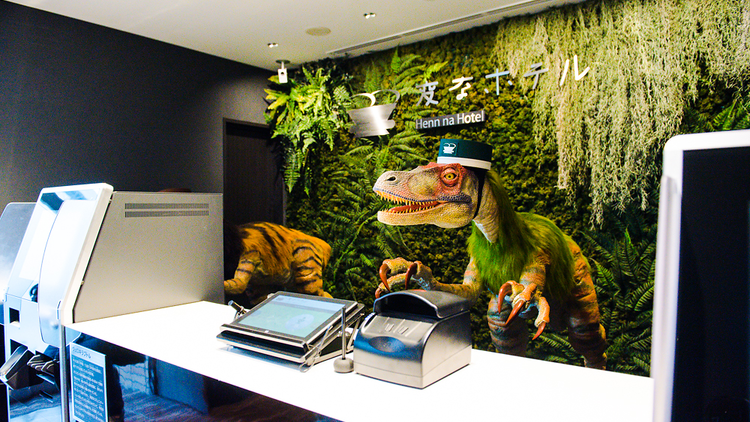 13. Kameha Grand Zürich
Zürich, Switzerland: Dreams Materialized
The Kameha Grand Zürich is a fusion of dreams and reality, offering themed suites that transport guests to different realms. Whether you're a space enthusiast or an adventurer at heart, this hotel showcases a future where design and imagination merge seamlessly.
14. Capsule Hotel
Lucerne, Switzerland: Compact Comfort
Switzerland's first capsule hotel challenges the boundaries of space and comfort. With its cryogenic hibernation capsules, it introduces an innovative solution to space-saving. This concept embodies a future where efficiency and design harmonize, transforming minimalism into an experience.
Merging the allure of history with state-of-the-art technology, Eccleston Square Pimlico stands as a truly distinctive yet inherently British hotel. The exterior boasts a captivating 19th Century Grade II listed historical façade, while inside, an array of cutting-edge features await.
Keypads orchestrating music and lighting, innovative shower walls with instant frosting capability, bathroom mirrors concealing flat-screen televisions, and iPads doubling as in-room concierge services compose an unparalleled fusion of past and future.
TL;DR:
The future of hospitality unfolds as we delve into the world's 15 most innovative hotels. From floating beds to robotic interactions, each establishment offers a unique perspective on what the future of travel could look like. Imagination, design, and technology converge, paving the way for an uncharted era of luxury and experiences.
Hi, I'm Oren, founder at BIGINTRO, a content strategy agency that helps B2B companies drive growth. We develop search, social, PR, and content marketing strategies tailored to business goals. I also have a dog named Milo.