Jetson, a pioneering aviation and aerospace company, has successfully raised $15 million in a seed round. The investment is led by tech entrepreneur, futurist, and transportation consultant will.i.am, along with contributions from Global Angel Investors. Distinguished figures like Board Director Mr. Luca Spada and Senior Board Advisor Mr. Rikard Steiber have also joined in as investors.
In an intriguing twist, renowned rapper will.i.am is set to become one of the first pilots for Jetson. Notably, will.i.am has a track record of designing and manufacturing custom cars with futuristic features in collaboration with brands like Mercedes-Benz and DeLorean.
Launching Jetson ONE: A Personal Electric Aerial Vehicle
The substantial investment will propel Jetson towards the launch of its flagship product, Jetson ONE—a personal electric aerial vehicle (eVTOL). Additionally, Jetson plans to initiate a Series A funding round, paving the way for the first shipments of Jetson ONE in 2024. The company is eyeing expansion in the US market next year and is actively evaluating potential locations for its US headquarters.
Democratising Flight: will.i.am's Vision
will.i.am, the tech entrepreneur and consultant to automotive companies, expressed his pride in joining the Jetson family and supporting their mission to democratize flight. He envisions personal aircraft designed for short point-to-point flights becoming a reality, reflecting his long-standing passion for futuristic vehicle design.
Jetson CEO Stephan D'haene on Urban Air Mobility
Stephan D'haene, Jetson CEO, highlighted the company's approach to Urban Air Mobility (UAM), emphasizing their commitment to developing and introducing eVTOL aircraft within existing regulatory frameworks. D'haene views this as a transformative opportunity in aviation, akin to the pioneering days of the Wright brothers. He also revealed that Jetson is commencing shipments in the coming year and will soon initiate an A-round of funding to accelerate growth.
Jetson's Co-founder and CTO's Role in US Testing
Tomasz Patan, Jetson co-founder and CTO, will be conducting the first US test flights in October. Patan expressed his belief in the potential of the US market for Jetson and emphasized the company's mission to redefine the future of air mobility, thereby addressing various urban transportation challenges.
Jetson ONE: Making Everyone a Pilot
Founded in 2017 by Tomasz Patan and Peter Ternström, Jetson's primary goal is to democratize aviation by making flight accessible to everyone. The Jetson ONE is set to begin deliveries in 2024, with over 300 units already pre-sold at $98,000 each. This remarkable electric vertical takeoff and landing (eVTOL) aircraft is commercially available and doesn't require a pilot's license. Instead, Jetson provides comprehensive training through a two-day course. The Jetson ONE boasts a lightweight aluminum space frame inspired by race cars and a Carbon-Kevlar composite body. Its user-friendly joystick controls and flight computer ensure rapid learning in just minutes.
Key Features of the Jetson ONE
The Jetson ONE is powered by eight electric motors, offering a 20-minute flight duration at a maximum speed of 102 kilometers per hour, all powered by high-discharge lithium-ion batteries. It can accommodate a pilot weighing up to 95 kilograms, with swappable battery canisters that recharge in less than an hour.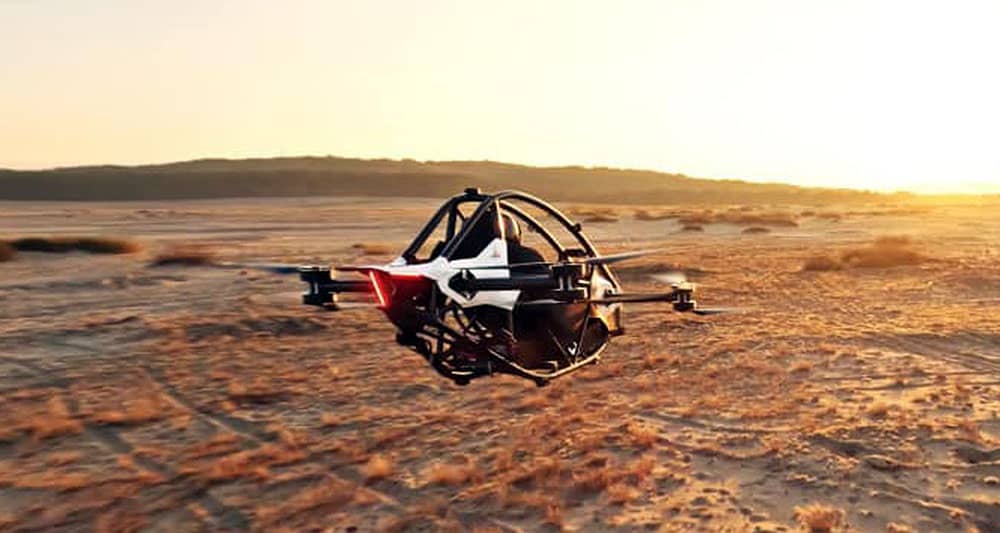 Jetson's Impressive Facility
Jetson currently operates a state-of-the-art research and development (R&D) and production facility located in Arezzo, Tuscany. The headquarters boasts a private airfield south of Florence, featuring an industrial facility and an 800-meter airstrip ideal for daily flight testing. Additionally, the airport houses a customer experience center and a pilot school.
TL;DR
Jetson secures $15 million in seed funding from investors including will.i.am and Global Angel Investors.
The company plans to launch its electric vertical takeoff and landing (eVTOL) aircraft, Jetson ONE, in 2024.
will.i.am is set to become one of the first Jetson pilots.
Jetson ONE, priced at $98,000, aims to democratize personal flight without requiring a pilot's license.
Jetson eyes expansion in the US market and ongoing development of generative AI technology for air mobility.
Hi, I'm Oren, founder at BIGINTRO, a content strategy agency that helps B2B companies drive growth. We develop search, social, PR, and content marketing strategies tailored to business goals. I also have a dog named Milo.