Trip.com, a leading player in the travel industry, has recently launched an innovative AI assistant, TripGenie. This AI-powered tool, integrated within their mobile application, is designed to streamline the often complex process of travel planning and booking.
TripGenie is an advanced iteration of Trip.com's AI travel assistant, previously known as TripGen. This new version leverages large language model technologies to provide a comprehensive suite of travel services. From crafting intricate itineraries to facilitating real-time bookings, TripGenie is set to cover every aspect of travel planning.
Intuitive Queries for Personalized Recommendations
TripGenie's user-friendly interface allows for intuitive queries. For instance, a user can ask, "Can you recommend an affordable flight from Singapore to Bangkok?" In response, TripGenie swiftly navigates to the Flight Deals page, showcasing the most economical options available. Similarly, when users are in search of accommodations near Bangkok's metro system, TripGenie provides a carefully curated list that matches their specific preferences. This precision-driven approach ensures that TripGenie's recommendations are tailored to each user's unique needs.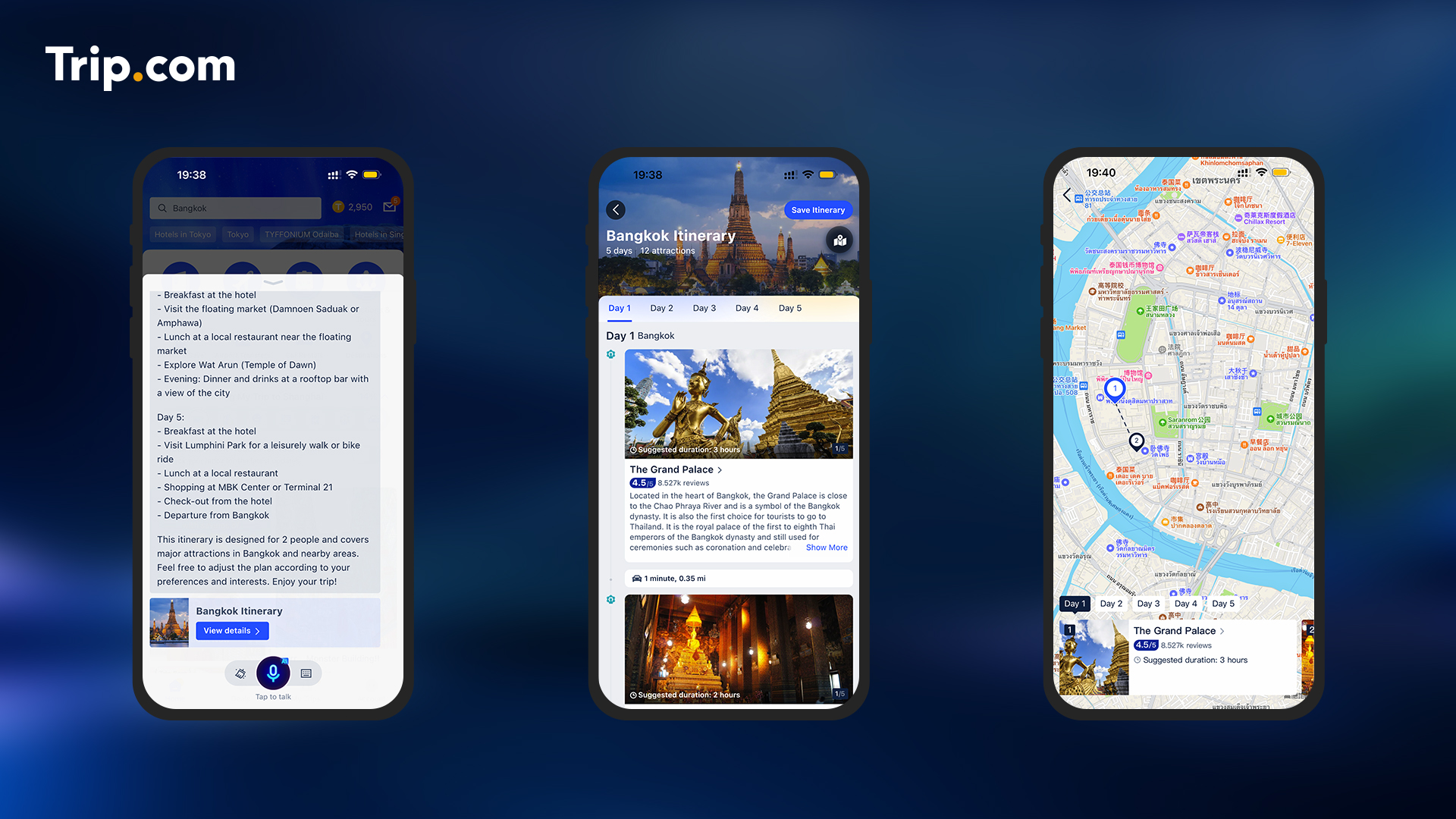 High-Quality Travel Ranking Content
In an effort to enhance the quality of its responses, Trip.com has developed high-quality travel ranking content. This includes Trip.Deals, Trip.Best, and Trip.Trends, all of which have been seamlessly integrated into TripGenie.
Beyond Booking: Comprehensive Travel Planning
The capabilities of TripGenie extend far beyond simple flight or accommodation bookings. For instance, if a user is looking to plan a 5-day trip to Bangkok, TripGenie's conversational interface steps up by suggesting tourist attractions, shopping destinations, and even providing booking links, photos, or city maps.
Convenient Itinerary Management
For those whose travel dates are not yet finalized, TripGenie offers a unique feature. Users can save their interactive and structured itinerary in the 'My Itinerary' section of the 'My Trip' channel. This allows for convenient and flexible travel planning, enabling users to continue organizing their trip whenever it suits them best.
Shaping the Future of Travel
Schubert Lou, COO of Trip.com, expressed his enthusiasm for the potential of this generative AI technology. He stated, "With the immense potential of our generative AI technology, we're revolutionizing the way we explore the world and shaping the future of travel for everyone."
Lou further added, "Since the beginning, we're driven to empower travelers with seamless and accessible experiences, through persistent innovation and a relentless focus on user-centric solutions. Our goal is to simplify and personalize the travel experience, making it as enjoyable and effortless as possible for our users."
TL;DR
Trip.com has launched TripGenie, an AI assistant designed to simplify travel planning and booking. This tool, an enhanced version of the previous AI assistant, TripGen, offers comprehensive services from creating itineraries to facilitating real-time bookings. TripGenie uses intuitive queries to provide personalized recommendations and incorporates high-quality travel ranking content. Beyond just booking, it helps users plan their trips, offering suggestions for attractions and shopping destinations. Users can also save their itineraries for later editing. Trip.com aims to revolutionize travel experiences through this AI technology, making travel planning enjoyable and effortless for users.
Hi, I'm Oren, founder at BIGINTRO, a content strategy agency that helps B2B companies drive growth. We develop search, social, PR, and content marketing strategies tailored to business goals. I also have a dog named Milo.